As we know, faxing is an old tradition, but people still rely on methods of sending a fax. The online faxing system is much in use these days because it saves the cost of buying a fax machine and spending money on other setups. Online faxing is a method of sending faxes using Email, Google Drive, Google Docs, etc. If you are new and want to know how to fax by Email, you are in the right place. This article will provide you easy steps to send a fax to email.
What Does Sending Fax Online Mean?
Sending fax online means the transfer of faxes using your computer, mobile phones, laptops, etc. To send a fax online, you must have an internet connection, an online fax number, and an email Id.
You can send a fax using any email services, i.e., Yahoo, Outlook, Gmail, GMX, etc. In this article, you will learn how to send a fax using Outlook.
The procedure of how to send a fax via email is almost similar for all email clients.
To know How to send a fax using Gmail or Yahoo, go through our articles on Sending a fax from Gmail and Sending a fax from Yahoo.
To get an online fax number, subscribe to any of the online fax service providers. Please read all the inclusions in their package and choose the appropriate service that meets your requirements.
Mail to fax procedure is simple and fast. If your Email Id is linked with online fax service providers, you can send your fax in the same way you send your emails.
The email to fax method also lets you send a fax to a recipient using a fax machine.
Microsoft Outlook:
If you wonder, can outlook send a fax? Then your answer is Yes! You can fax using outlook.
Microsoft Outlook helps you send and receive emails; it also has other helpful features like calendaring, web-browsing, etc. Fax via Email is possible if you have made an ID on Outlook. You can also send fax from outlook 365, which is a cloud-based service. If you don't have an ID, then you can create one on the account sign up page, as shown in the image below: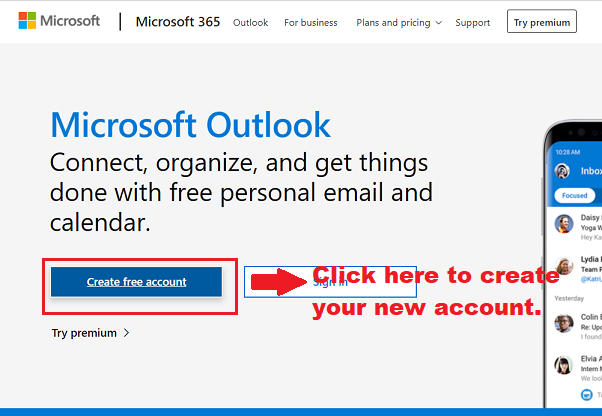 How To Send A Fax From Outlook?
In this section, you will learn how to fax from email outlook. First, if you have created an ID on Microsoft Outlook, you should choose your online fax service provider. Then, follow these steps to send fax via Outlook:
Step 1: Choose your online fax service provider that is suitable for you. These service providers will provide you your Online fax number. Your fax number is required to send a fax through outlook.
Step 2: Log in to your account and compose your Email. Fill in all the necessary details, attach your documents, and mention the details you want to include in the body of the mail.
Step 3: Write the recipient's fax number in the 'to' section to Email to that fax number..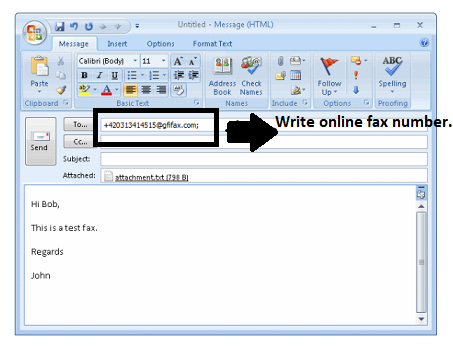 Step 4: Once everything is done, click on the send button.
How To Receive Fax In Outlook?
If you have provided your correct online fax number to the sender, you will easily receive your fax in Outlook. Your faxes will be delivered to your inbox in the form of PDFs. The procedure of how to send fax via Email is almost the same for all the email services.
FAQs:
Can I Email To A Fax Number With Outlook?
Yes, you can Email to fax number with Outlook. However, you must have the recipient's online fax number, computer, and internet connection to send a fax from Outlook.
Where Will I Receive My Fax?
Your faxes will be delivered to the inbox of your outlook account.
How to Get my Fax Number for Outlook Email?
Your online fax service provider will give you the online fax number which you can use for the transfer of your faxes.