By the way, fax is a very old technique to send messages, but in today's time, it is also being used a lot because fax is a very secure way of sending messages than email because there is no risk of hacking of messages. In some businesses, FAX is the primary mode of transmission.
Fax is also called Telefax, a technology that can send documents from one place to another quickly using a telephone line or internet connection. Fax is a scanned copy of text and pictures printed on paper. There are two ways to send a Fax. The first one is the traditional way, where you need an actual Fax machine, and the other one is Online Fax which can be done on any electronic device like Smartphone, Computer, or Laptop. Here, you will learn the differences between Online Fax (Digital Fax) and Offline Fax (Traditional Fax).
What is an Online FAX?
As you know, A fax machine is not only the way to send a fax because, with the advent of new technologies, we can send a fax using the internet. Online Fax is also called eFax. This is also known by several other names: Digital Fax, virtual faxing, and electronic Fax.
Online Fax is a technology or service where we can send a fax digitally with the help of an internet connection and some online fax services. All you need is a computer or a smartphone connected to the internet to send an online fax. It is a better way than offline fax or traditional fax. There are several ways to send a Fax Online, and you can choose the following ways according to the equipment and available service you have.
8 ways to send an Online Fax:
Fax using an Email
Fax from a Computer or Laptop (Windows / macOS)
Fax using Microsoft Office
Fax from an iOS device
Fax from an Android device
Send a Fax from Google Sheets, Google Docs, and Google Drive
Fax using VoIP
Send a Fax using an Online Fax services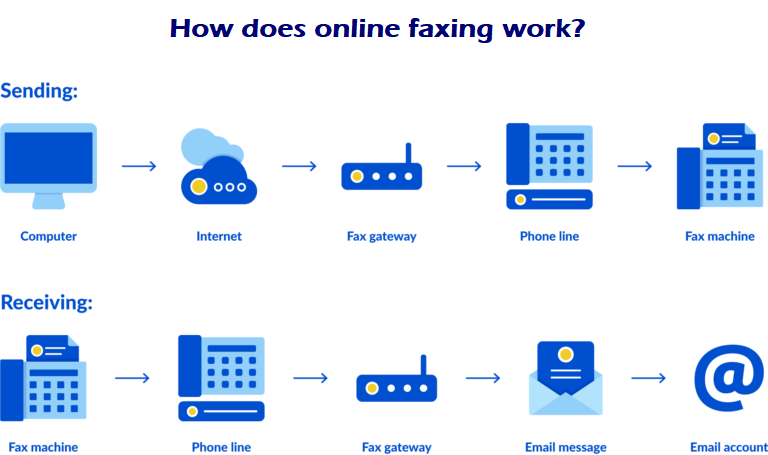 These were some modern ways to send a fax. And you can use any method from above to send a Fax without a Fax machine.
Why we use online fax?
Online fax is used because it offers several advantages over traditional faxing. Overall, online faxing provides a more efficient and cost-effective way to send and receive faxes, while also offering increased security and environmental benefits.
What is an Offline FAX?
We use the typical Fax machine to send and receive documents electronically in offline Fax. This is a very old traditional method of sending a fax which has been used for the last hundred years.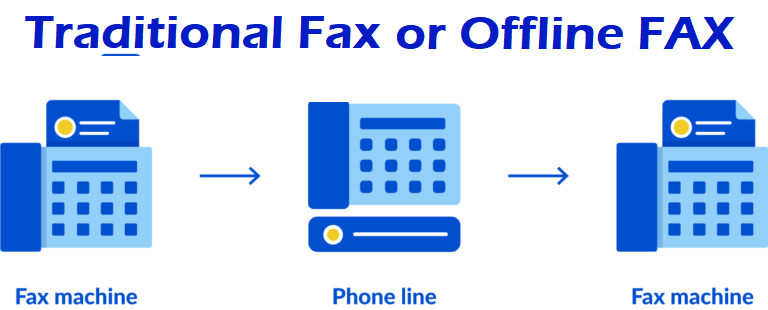 What do you need to send an offline Fax?
You will need a couple of things to send a FAX.
Recipient FAX number
Your FAX document
A FAX cover Sheet (optional)
A Fax Machine
Dedicated landline connection
Paper